During the months leading up to Lowenstein Sandler's summer associate program this year, neither administrators nor participants were sure what to expect. CDC guidelines were continuously changing as workplaces around the country emerged from the remote conditions imposed during the COVID-19 pandemic, and clients were navigating a fluctuating economy and changing governmental policy priorities. Happily, it turned out that these unique circumstances created exciting work opportunities for up-and-coming lawyers as well as innovative new avenues for socializing and mentorship.
When the firm's Human Resources Department (including our recruiting team) started to plan the 2021 summer program, everyone was working remotely. In 2020, the firm had pivoted suddenly but effectively to a fully remote summer program, and staff expected to do the same this year. However, as states began to open up in the spring of 2021, the summer program evolved to mirror the experiences of most Lowenstein employees: a hybrid model combining both in-person and remote interactions, meetings, and events.
Each summer associate (also called "law clerk") was always given the option to work from home if he or she preferred, and all social events were also offered through Zoom or WebEx. However, by July, many summer associates were joining their colleagues in person at least a few days a week. Some who were living in cities other than where their offices were located were flown in and provided accommodations for special events and in-person meetings. Many appreciated the flexibility of the hybrid model, with the mentoring and face-to-face opportunities it provided while still protecting everyone's well-being. One law clerk noted that a law school classmate in another summer associate program was not even allowed to enter that law firm's building, which made our summer associate especially grateful for Lowenstein's hybrid approach.
Zachary Bocian, a Rutgers 1L who is one of the firm's 2021 LS Scholars, praises the hybrid model, saying that the program administrators helped each summer associate participate in the way with which he or she was most comfortable. Zach adds that he enjoyed how Lowenstein gives each summer associate "the ability to steer your own ship"; he was able to pursue every angle of corporate law that interested him, particularly the tax and IP issues arising within the context of mergers and acquisitions. He also enjoyed working with Jonathan C. Wishnia on a large structured finance transaction: "Jon helped me understand the importance of the smallest details of diligence, as well as the bigger picture of how best to serve the client's interests."
Clarence N. Jenkins III, this year's SEO Law Fellow, says: "My time with Lowenstein gave me an incredible perspective on how I hope to shape my career around my personal convictions. Lowenstein's commitment to the innovation industry through VentureCrush resonated with me as an impactful way that the legal community can leverage its expertise and network to make an industry more equitable. I particularly enjoyed observing Ed Zimmerman and Rossie E. Turman III collaborate with African founders and funds, and I thank The Tech Group at Lowenstein for the opportunity to interact with underrepresented founders and fund managers."
Tolu Adetayo, who is entering his third year at the University of Iowa Law School, says that Lowenstein's program gave him the flexibility to explore numerous possibilities and helped him narrow his focus to corporate law, possibly in the VC and technology areas. He was thrilled to work both in person and remotely with lawyers across all the offices and found the partners accessible and happy to answer his questions. He learned that "doing work that I like with people I like enables us all to do the work well." Tolu also enjoyed social events such as Karaoke Night and a mixology class, adding: "Now, I not only know more about the practice of law, but I can mix drinks, as well!"
As usual, summer associates joined our ranks from a wide variety of home states and law schools and represented a diverse cross section of interests, perspectives, and backgrounds. Each of the Lowenstein offices played host, with 15 law clerks in New Jersey, nine in New York City, four in Palo Alto, and two in Utah. For 10 weeks, the students were introduced to the full spectrum of the practice of law in a supportive and challenging environment. They attended educational seminars and assisted in complex matters in a range of legal areas with members of the White Collar Criminal Defense practice, Tax, Bankruptcy & Restructuring, The Tech Group, Investment Management, Real Estate, and the Lowenstein Center for the Public Interest, to name a few.
In addition to hard work, the summers enjoyed a robust social calendar. All events were planned as virtual, but eventually, more in-person events were added to the calendar. Lowenstein Chair and Managing Partner Gary M. Wingens hosted the New York and Roseland summers at an outdoor dinner at his home, while Marina Portnova hosted West Coast law clerks for a celebratory dinner. Other festivities included a sail in San Francisco Bay for the California contingent, happy hours, Top Golf, a paddleboat excursion on New York's Hudson River, and a virtual cooking class.
The ability of all involved with the summer program to swiftly adapt to our changing environment resulted in a satisfying and informative experience, underscoring once again Lowenstein's culture of versatility and innovation. Congratulations to all the law clerks, as well as to Mona Patel and her team for another great summer!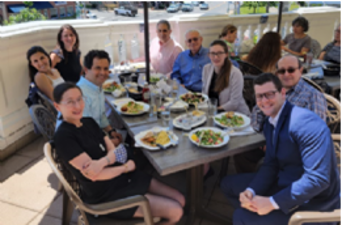 Zachary Bocian (far right), one of Lowenstein's 2021 LS Scholars, joins the Roseland Tax group for lunch outside.
(Below) Summer associates on the East Coast attended an outdoor dinner at the home of Chair and Managing Partner Gary M. Wingens.