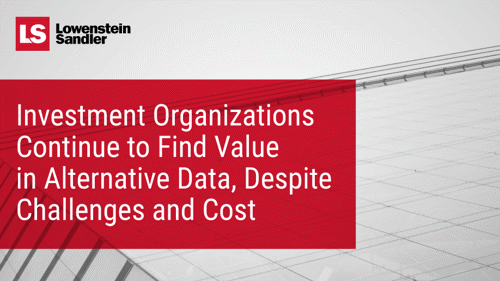 Findings from a survey by Lowenstein Sandler LLP suggest increased use and a maturing landscape when it comes to alternative data.
Ninety-two percent of investment organizations—including hedge funds, private equity, and venture capital—that use alternative data to inform their decision-making do so either to a moderate or significant extent. That's according to the latest survey by national law firm Lowenstein Sandler LLP, which also revealed that investment leaders expect larger budgets and even higher use of alternative data going into 2022.
These findings show alternative data's growing importance in the investment world. But another finding reveals something just as significant—that people in the investment world have a maturing understanding of what alternative data actually is.
We come to this conclusion by comparing this year's survey with a similar one we conducted in 2019. That survey of hedge funds found that 82 percent of respondents said they used alternative data, while just 67 percent of hedge funds surveyed this year answered that way. But based on industry trends—and other survey findings—this doesn't indicate a drawback of alternative data use. Far from it. It indicates that respondents actually knew what alternative data was when they answered the question, whereas they might have answered it more generally two years ago. Indeed, respondents were also more likely than their counterparts were in 2019 to increase their usage of alternative data in the next six to 12 months.
Access Investment Organizations Continue to Find Value in Alternative Data, Despite Challenges and Cost.
Click here to view the full article