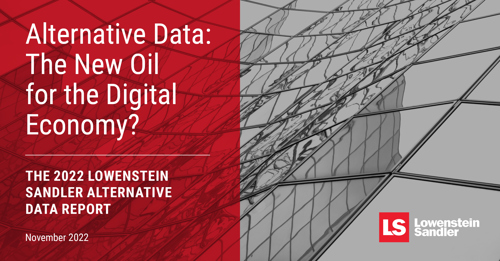 Alternative data's growing importance in the professional investment community shows no signs of slowing, according to survey results collected by Lowenstein Sandler's Investment Management Group.
Nearly nine in 10 respondents surveyed this year indicated that they currently use alternative data or plan to use it soon. This result is in line with the 92 percent recorded in a similar survey we conducted last year.
Another key finding: 81 percent said that their organization's use of alternative data either stayed the same or increased from 2020 through the first half of 2022.
Investors have been deploying alternative data—generally defined as information not contained in company filings, press releases, analyst reports, or other traditional information sources—in their decision-making for over a decade. But its popularity has skyrocketed in recent years. According to one market estimate, the global market for alternative data is expected to grow from $4.49 billion to reach $149.1 billion by 2030. The demand has been driven by hedge funds, which typically have shorter time horizons for their investments as compared to private equity firms and venture capital investors.
Access Alternative Data: The New Oil for the Digital Economy? The 2022 Lowenstein Sandler Alternative Data Report.
Click here to view the full article