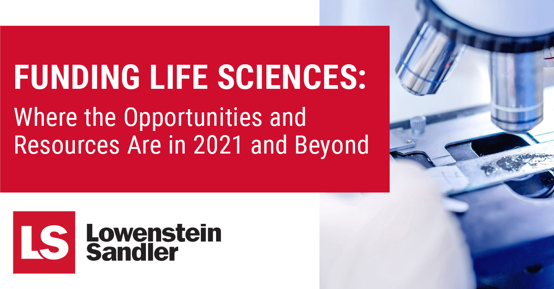 Early-stage and small to midsize private and public companies in the life sciences sector began 2020 on a high note. Funding, particularly in the biotechnology sector, was pouring into the industry. Even several months into the pandemic, many biotech and other life sciences companies showed no signs of struggling to raise capital. But as COVID-19 continues to batter the world economy, life sciences leaders are likely to encounter new obstacles to funding growth.
And yet new data from Lowenstein Sandler's inaugural Life Sciences Investment Survey suggests that life sciences entrepreneurs and leaders remain optimistic about their abilities to obtain funding in 2021, particularly from major pharmaceutical and biotech companies.
That's despite the fact that startup leaders take a dim view of the industry's‒and their own‒growth prospects in the coming year, according to the survey.
The survey gauged the perspectives of C-suite and other executive-level professionals working in the pharmaceutical, health care services, biotechnology, and medtech and medical device industries on the current state of investment in the life sciences sector, taking into account the COVID-19 pandemic's impact on the industry. The survey also assessed respondents' outlook on the industry's ability to raise capital in 2021.
Access Funding Life Sciences: Where the Opportunities and Resources Are in 2021 and Beyond.