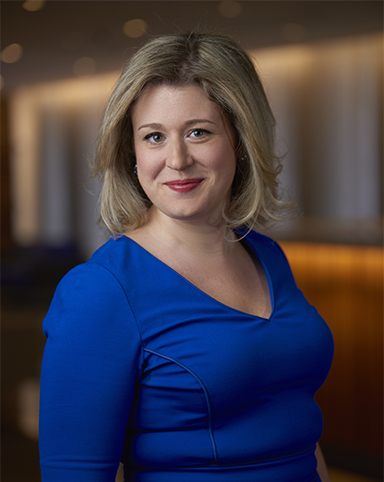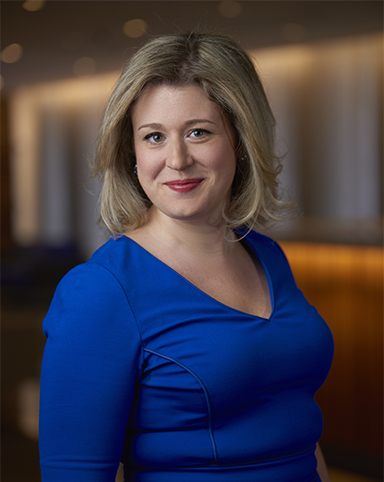 See more section
Valued for her keen ability to analyze intricate legal and business issues, Meg represents clients in a wide range of complex civil litigation matters in state and federal courts. Meg's experience includes all phases of the litigation process, from motion practice to discovery and trial preparation.
Notably, Meg has developed a strong background in securities and structured finance litigation affecting buy-side entities. She proposes practical solutions to legal problems faced by hedge funds, institutional investors, and private equity funds. Meg forges strong connections with her clients, efficiently meeting their evolving legal needs.
Meg is passionately committed to the firm's pro bono program. In 2014, she served as the Alan V. Lowenstein fellow at Essex-Newark Legal Services, representing low income individuals in landlord-tenant disputes, both in court and in administrative proceedings. Meg currently partners with lawyers at Prudential Financial and Volunteer Lawyers for Justice to run a court-based pro bono clinic providing legal advice and service to low-income tenants facing eviction proceedings.
Meg is a frequent contributor to the firm's Capital Markets Litigation blog, writing on various topics of interest to the financial community. Prior to joining the firm, Meg spent several years working on judiciary and transportation policy issues in the Washington, D.C. office of U.S. Senator Frank R. Lautenberg.
Defending IKB Deutsche Industriebank in the Southern District of New York against claims arising out of CDO transactions.
Representing CDO noteholders in suit regarding the collateral manager's interpretation of an indenture and collateral management agreement.
Represents RMBS Trustee concerning hundreds of millions of dollars in mortgage repurchase claims.
Assisted in representing Appaloosa Management L.P. in its settlement of stockholder derivative litigation with TerraForm Power Inc., resulting in $3 million fee award for Appaloosa.
Served on leadership team managing a pro bono national hotline to answer questions from voters during the 2016 presidential election.
Represented Liberator Medical Holdings, Inc. in successfully opposing applications to enjoin $180 million acquisition in three jurisdictions.
Partnered with Prudential and Essex County Legal Aid Association to design and launch an ongoing, court-based pro bono clinic to provide legal advice and document-drafting to assist low-income tenants in defending themselves from eviction.
Prosecuted claims on behalf of The Prudential Insurance Company of America against Morgan Stanley for fraudulent misrepresentation and civil RICO involving the creation and sale of over $1 billion of RMBS.
SEE MORE
FIRM NEWS
January 1, 2020

"Eight Elected to Lowenstein Sandler Partnership"

Andrew David Behlmann

,

Eric Chafetz

,

Andrew P. Erdmann

,

Jamie Gottlieb Furia

,

Darren Goodman

,

Carl J. Hessler

,

Paul M. Krueger

,

Meagan R. Signoriello

,

Sarah P. Cole

,

Sabrina Cua

,

Craig Dashiell

,

Alexandra S. Droz

,

Nicole Fulfree

,

Maya Ginsburg

,

Bridget Harris

,

Steven Llanes

,

Sophia Mokotoff

,

Megan Monson

,

Nick Samedi

,

Meg Slachetka

,

Juan B. Soto

,

Steven K. Tam

,

Stacey C. Tyler

September 13, 2019

"Lowenstein Litigators Achieve Key Victory in Transgender Military Ban Case"
PUBLICATIONS
IN THE MEDIA
September 13, 2019

Zachary D. Rosenbaum, Jennifer Fiorica Delgado, and Meg Slachetka achieved a key victory as plaintiffs' pro bono counsel in Doe v. Esper, a legal challenge to the Pentagon's transgender service policy, as reported by Law360. The government's policy is to discharge or deny enlistment to anyone who will not serve in the gender to which they were assigned at birth, or who is undergoing hormone therapy or other gender-confirmation procedures. Lowenstein's team successfully overcame the government's claim that it is entitled to a high level of deference simply because its policies were based on military-decision-making. They argued that the Department of Defense (DOD) improperly refused to produce documents pertaining to the development of the policy, and the Hon. Colleen Kollar-Kotelly of the U.S. District Court for the District of Columbia agreed, finding that DOD was not automatically entitled to such deference and that more discovery was necessary to determine whether the plan was created through a reasonable and even-handed process. The judge further agreed that DOD could not invoke the deliberate process privilege, which protects documents revealing the process behind government decisions, because "[t]hose documents go to the heart of Defendants' intent and decision-making process … — both key issues in establishing the legitimacy of the disputed transgender policy." View Lowenstein's news announcement about this matter.
Education
Georgetown University Law Center (J.D. 2013), cum laude, American Criminal Law Review, Articles and Notes Editor; Annual Survey of White Collar Crime, Editor, Tax Violations Chapter

The College of William and Mary (B.A. 2006), Government and Music, magna cum laude, Benjamin Stoddert Ewell Award, James Monroe Scholar
Affiliations
New York State Bar Association
New Jersey State Bar Association
New Jersey Woman Lawyers Association
Admissions
New York
New Jersey
U.S. District Court for the District of Columbia
U.S. District Court for the District of New Jersey
U.S. District Court for the Southern District of New York
U.S. District Court for the Eastern District of New York