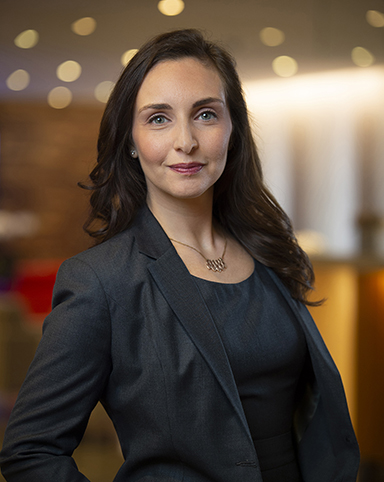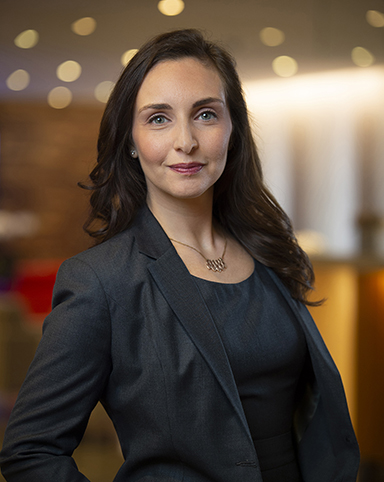 See more section
Jennifer is a partner in the firm's Capital Markets Litigation group, where she primarily represents the "buy-side," including U.S.-based and global asset managers, hedge funds, and institutional investors.  She has extensive experience with a wide range of capital markets disputes, including structured finance and securities litigation, M&A disputes, and bankruptcy-related litigation.
Jennifer also maintains a robust business litigation, investigations, and counseling practice in which she services a diverse client base, from multibillion-dollar asset managers to multinational cosmetics companies. Known for her tireless dedication to client service, Jennifer builds close, long-term relationships that enable her to proactively identify and address client needs.  Jennifer has an exemplary track record advocating for her clients on high-stakes issues, ranging from advocacy with State Attorneys General and other regulators on data security and civil rights matters, to internal investigations concerning alleged "Me Too" violations.
In 2020 and 2019, Jennifer was recognized on Crain's list of "Notable Women in Law – New York" for her distinguished legal career and contributions to civic and philanthropic activities impacting New York City. Deeply committed to pro bono work, Jennifer was recognized in 2015 as one of the "Top 25 Pro Bono Advocates" by Legal Services of New York City for her work representing a disabled veteran and his family in connection with an eviction proceeding. Most recently, Jennifer prosecuted disability discrimination and retaliation claims against the New York City Housing Authority on behalf of a disabled woman living in public housing. She also successfully litigated a 35-day bench trial in a landmark victory for same-sex parents that granted a gay, interracial couple custody of their twin daughters born via gestational surrogacy.
Jennifer's passion for justice also extends to her commitment to advancing the role of women in the legal profession as well as improving diversity generally. To those ends, Jennifer co-heads the firm's recruiting committee and is an active mentor to young lawyers at the firm. She also co-chairs the Professional Services Perspective Committee of the Financial Women's Association, an organization dedicated to developing future leaders in every sector of the financial community.
Prosecuting mortgage loan repurchase claims in the Commercial Division of the New York State Supreme Court on behalf of a trustee of multiple residential mortgage-backed securities (RMBS) trusts with billions of dollars in mortgage assets.
Representing the New Jersey Bureau of Securities in case against Credit Suisse concerning its role in the RMBS crisis.
Represented The Prudential Insurance Company of America against Morgan Stanley in the prosecution of claims for fraudulent misrepresentation and civil RICO involving the creation and sale of over $1 billion of RMBS.

Represent

ing

an Asian governmental authority in litigation seeking more than $40 million in clawbacks related to the Madoff fraud.

Represented lender in litigation against borrower in connection with $40 million revolving credit facility.
Obtained favorable pre-suit settlement for institutional investor resolving securities fraud claims against issuer.
Represented Cayman funds in litigation relating to a $60 million financing transaction.
Led litigation investigation on behalf of the Official Committee of Unsecured Creditors of Gibson Guitar.
SEE MORE
Crain's: Notable Women in Law - New York (2019-2020)

Recognizing women lawyers who have impacted New York City through their distinguished careers and exceptional civic and philanthropic activities

New Jersey Rising Stars (2013-2018)

Recognized for work in Business Litigation, Securities Litigation and Class Action/Mass Torts

New York Rising Stars (2015-2018)

Recognized for work in Business Litigation, Securities Litigation, Class Action/Mass Torts

Legal Services of New York City: Top 25 Pro Bono Advocates (2015)
FIRM NEWS
PUBLICATIONS
IN THE MEDIA
September 13, 2019

Zachary D. Rosenbaum, Jennifer Fiorica Delgado, and Meg Slachetka achieved a key victory as plaintiffs' pro bono counsel in Doe v. Esper, a legal challenge to the Pentagon's transgender service policy, as reported by Law360. The government's policy is to discharge or deny enlistment to anyone who will not serve in the gender to which they were assigned at birth, or who is undergoing hormone therapy or other gender-confirmation procedures. Lowenstein's team successfully overcame the government's claim that it is entitled to a high level of deference simply because its policies were based on military-decision-making. They argued that the Department of Defense (DOD) improperly refused to produce documents pertaining to the development of the policy, and the Hon. Colleen Kollar-Kotelly of the U.S. District Court for the District of Columbia agreed, finding that DOD was not automatically entitled to such deference and that more discovery was necessary to determine whether the plan was created through a reasonable and even-handed process. The judge further agreed that DOD could not invoke the deliberate process privilege, which protects documents revealing the process behind government decisions, because "[t]hose documents go to the heart of Defendants' intent and decision-making process … — both key issues in establishing the legitimacy of the disputed transgender policy." View Lowenstein's news announcement about this matter.
Speaker, LGBTQ Career Panel, Rutgers Law School , Newark, NJ, October 22, 2019
Speaker, ABA Business Law Section Annual Meeting 2019, ABA Business, Washington, D.C., September 12-14, 2019
Panelist, Can We Avoid a Mess When LIBOR Goes Away?, ABA Business Law Section Annual Meeting, Austin, TX, September 14, 2018
Moderator, Residential Mortgage-Backed Securities Litigation Update: Analysis and Perspective on the Current State of Play, ABA Business Law Section Annual Meeting, Austin, TX, September 13, 2018
Panelist, Current Developments in Securitization and Structured Finance Law, ABA Business Law Section Spring Meeting, Rosen Shingle Creek, Orlando, FL, April 12, 2018
Speaker, Telling Prudential's Story: Adventures in Risk Management, The Prudential Insurance Company of America - Enterprise Litigation Group, March 19, 2018
Panelist, Beyond the Marblegate: An Update on the Recent Developments Affecting Corporate Trustees and Investors, ABA Business Law Section Annual Meeting, Chicago, IL, September 13, 2017
SEE MORE
Education
Rutgers Law School (J.D. 2008); Publicity Editor, Women's Rights Law Reporter

University of Maryland, College Park (B.A. 2005), Government and Politics; Dean's List; College Park Scholar
Affiliations
Financial Women's Association

Co-Chair, Professional Services Perspective Committee

ABA Business Law Section

Chair, Structured Finance Litigation Subcommittee
Admissions
New York
New Jersey
U.S. District Court for the District of Columbia